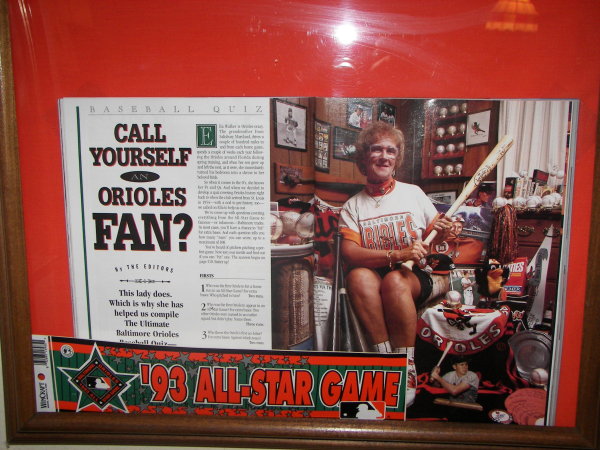 Baseball Memorabilia, Furniture & Vehicle Auction
June 30, 2012
30412 Saxon Court Salisbury, MD. 21804

PUBLIC AUCTION BASEBALL MEMORABILIA*VEHICLE*ANTIQUES *FURNITURE

A lifetime collection of baseball memorabilia (Over 500 lots) assembled by Ella Walker "Ms Baseball" of Salisbury, MD.

Saturday June 30, 2012 at 10 AM 30412 Saxon Court Salisbury, MD. 21804

DIRECTIONS: From Salisbury - Follow Rt 13 N to Dagsboro Rd. Turn R. Follow to Avalon Blvd. Turn R. Take 2nd right onto Saxon Crt. Signs posted.

SIGNED BASEBALLS: 1115 AM(Over 300 partial list) DiMaggio, Mantle, Ted Williams, Don Larsen, Bob Feller, Enos Slaughter, Brooks & Frank Robinson, Cal Ripken, Jim Palmer, Eddie Murray, Rick Dempsey, Boog Powell, Earl Weaver, Yogi Berra, Pete Rose, Double Duty Radcliff, Tony Kubek, Stan Musial, Kirby Puckett, Billy Martin, Lou Brock, Ernie Banks, Robin Yount, Buck O'Neil, Harmon Killebrew, Duke Snider, Ernie Harwell, Bobby Thomson, Judy Johnson, Harold Baines, Moose Skowron, Frank Howard, Juan Marichal, Bobby Shantz, Wade Boggs, Bobby Doerr, Phil Niekro, Bullet Bob Turley, Larry Doby, and many more. "Lucky to be a Yankee" book signed by DiMaggio, Berra autographed book, bats from Fred Lynn, A Rod, Lee Lacy, Brooks, Dempsey, and others. Autographed pictures, helmets, pins, & more. Thousands of old baseball cards including Nolan Ryan, Reggie Jackson & Brooks rookie cards. Too many items to mention.

FURNITURE: Marble top dresser, Victorian chairs, 2 door china cabinet, Duncan Phyfe mahogany drop leaf & wall table, drop leaf gate leg table, Oak bed, dresser & washstand, dinette set, Pine dresser, nightstands, dining table & china cabinet, grandmother clock, high back chairs, sofa, coffee & end tables, maple dresser, cane & rush bottom chairs, Singer sewing machine, bookcases, display cases, desk, wooden shelves, Lazy Boy rocker, Kimball piano, and much more.

PERSONAL PROPERTY/GLASSWARE: 10 AM Stereoscope with view cards, Liberty Bell pin ball machine, pool table, marble base & floor lamps, old butter churn & coffee grinder, cobalt blue crock, antique jug & Baltimore pitcher, TV's, Guardian ware, pictures, Madame Alexander dolls, Oriole bobble heads, Frank Perdue bobble head & trucks, old baseball books, Holiday Barbie's & others, Boy Scouts canteen, lrg assort Precious Moments, weather radios, Worlds Fair postcard, costume jewelry, old quilts, Candlewick, cut glass, Johnson Bros china, blue opalescent, Roseville bowl, Shirley Temple pcs, pressed glass, oriental plates, Chestnut Farms milk bottle Delmar DE, yard tools, windows, and much more.

VEHICLE: 1 PM 2002 Oldsmobile Intrigue GX 4 DR Sedan, 6 cylinder, auto, air, power windows & locks, cruise, 95200 miles.

TERMS: Cash and/or good local check only. All items are sold AS-IS. 6% MD sales tax. No buyer premium. Must have MD sales tax ID & spend state required $200 to utilize your tax number. Must have proper ID. Everything must be settled for and removed on sale day. Not responsible for accidents. This is an outstanding sale. Something for everyone. Food-Whitey's BBQ Plenty of shade for everyone!
Baseball Memorabilia, Furniture & Vehicle Auction Gallery
1
2
3
4
5

6
7
8
8
1

1
1
1
1
1

1
1
1
1
1

1
1
1
1
1

1
1
1
1
1

1
1
1
1
1

1
1
1
1
1

1
1
1
1
1

1
1
1
1
1

1
1
1
1
1

1
1
1
1
1

1
1
1
1
1

1
1
1
1
1

1
1
1
1
1

1
1
1
1
1

1
1
1
1
1

1
1
1
1
1

1
1
1
1
1

1
1
1
1
1

1
1
1
1
1

1
1
1
1
1

1
1
1
1
1

1
1
1
1
1

1
1
1
1
1

1
1
1
1
1

1
1
1
1
1

1
1
1
1
1

1
1
1
1
2

2
3
1
1
1

1
1
1
1
1

1
1
1
1
1

1
1
1
1
1

1
1
1
1
1

1
1
1
RETURN